SmartWay / Garza Law Firm
Basketball Overtime

Tune in right after
Tennessee Basketball Games!

Listen on TonyBasilio.com
& On Your Apps!

Call in @ 865-200-5402

Get the Droid App!

Get the iPhone App!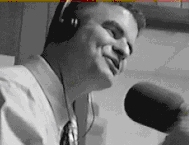 Wednesday
Posted: Wednesday, April 26th, 2017, 7:54 AM
Special thanks to Beano and Brian Hartman for picking me up on the air the past couple of days. I'm going to attempt to do today's show but will obviously be a game time decision depending on how my father is doing. At any rate, we have a ton to discuss in the aftermath of UT's Spring game with Dr. Sean Sinclair today. Plus, we're going to talk about Tennessee's run on commitments in recent weeks.
It's going to be a busy few days here as in the next 3 days (including today) you're going to read a double shot of Orange Throat. Plus, 'X' comes by tomorrow. Also, CC Hoops will have a UT Hoops recruiting update. I'm tremendously blessed to have a wonderful family of contributors. That this blog is free everyday and updated with fresh material is nothing short of a miracle on the budget with which we operate the show.
...

[more]
Tuesday
Posted: Tuesday, April 25th, 2017, 12:47 PM
Apple Didn't Fall Far....
I begin today with a sense of appreciation for my Dad who is enjoying his final few hours on Earth as I type this. He's been amazing during my time with him here in PA. Here's a quick story of how you live to be 90 going on 91. Dad is lying in his bed seemingly lifeless for hours yesterday. He hasn't said anything for literally hours. His mouth is open and he's just laying there. Meanwhile my aunts (both precious people) one of whom is 89 and the other 87 are arguing as to who acts older!!!! I love these people. So they go back and forth verbally sparring while my Dad is holding a hand of each of them. Finally, after several turns back and forth, they decide that everybody in the room is old.
...

[more]
Monday
Posted: Monday, April 24th, 2017, 8:22 AM
What a wild weekend in Big Orange Country. Congrats to the Vols on an entertaining first half of Saturday's Spring Game. The weather just wouldn't cooperate but this didn't stop Tennessee from attempting to make the show go on. Tennessee made the right decision in cutting things short at a half. It's kind of a shame they couldn't have done the same last November down at Vandy. And this is where we begin on this 24th of April. The Vandy hangover lingers. That taste will remain in the mouth of the living Vol Nation until Tennessee proves itself worthy. Here's hoping Tennessee will use the hunger of this hangover in Big Orange Country to propel them forward during summer workouts.
Special thanks for Brian Hartman and Dr.
...

[more]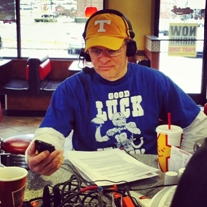 FINAL-4 AND MORE
Posted: Thursday, March 30th, 2017, 3:29 PM
FREE THOUGHT FRIDAY
FINAL-4 STUFF:
JOCKING THE COCKS: I really like how the Final-4 played out this season. While Florida and Kentucky were denied a chance to further separate themselves from the SEC pack long-suffering South Carolina fans -who I identify with and have an affinity for- get a chance to enjoy the finer things college basketball has to offer. I told Tony on Monday that I would be pulling for Gonzaga but immediately regretted it knowing when the ball is tipped I'll be full-Cocky. I've had the pleasure of working closely with some of South Carolina's biggest fans and somehow still like the heck out of them. I hope they get the further thrill of seeing the other three participants "step to the rear" while Frank Martin and the Gamecocks cut the nets down.
...

[more]
MORE TOURNEY TALK
Posted: Thursday, March 23rd, 2017, 1:49 PM
FREE THOUGHT FRIDAY
TOURNEY TIDBITS: As usual the tournament had no shortage of drama and gave us a wonderful weekend of entertainment.
-If seeding is your measurement there were very few surprises in the round of 64. Only five lower seeds won in the first round and amazingly three of those were 11 seeds (Rhode Island, USC, Xavier). The other "upsets" came from 12 seed MTSU and 10 seed Wichita State. Vegas wasn't buying the Shockers' seed making them a 1-pt favorite over 7-seed Dayton
-Seth Davis -in ridiculous fashion- selected Wichita State as his "underdog lock of the day" prior to their win over Dayton.
...

[more]
TOURNAMENT TIME
Posted: Thursday, March 16th, 2017, 3:46 PM
FREE THOUGHT FRIDAY
TOURNEY TIDBITS: I enjoy college basketball but it is a conditional love. I rarely think of it when it isn't in season and if given truth serum I would admit that it would rank no better than fourth on my list of favorite sports behind college football, Major League Baseball and the NFL. But there is no question the NCAA Men's Basketball Tournament is still the most enjoyable spectacle in all of sports, especially the first two days of the event and I'm not referencing Dayton. The proof of the pudding is my excitement for the event doesn't wane if my favorite team is excluded unlike other sports' major championship events. As usual I am ready for what will almost certainly be days of great drama and enjoyment. Here are some early thoughts on the 2017 tourney:
-The four 5-12 matchups look as if they will prolong the slot's reputation as the most likely upset spot.
...

[more]